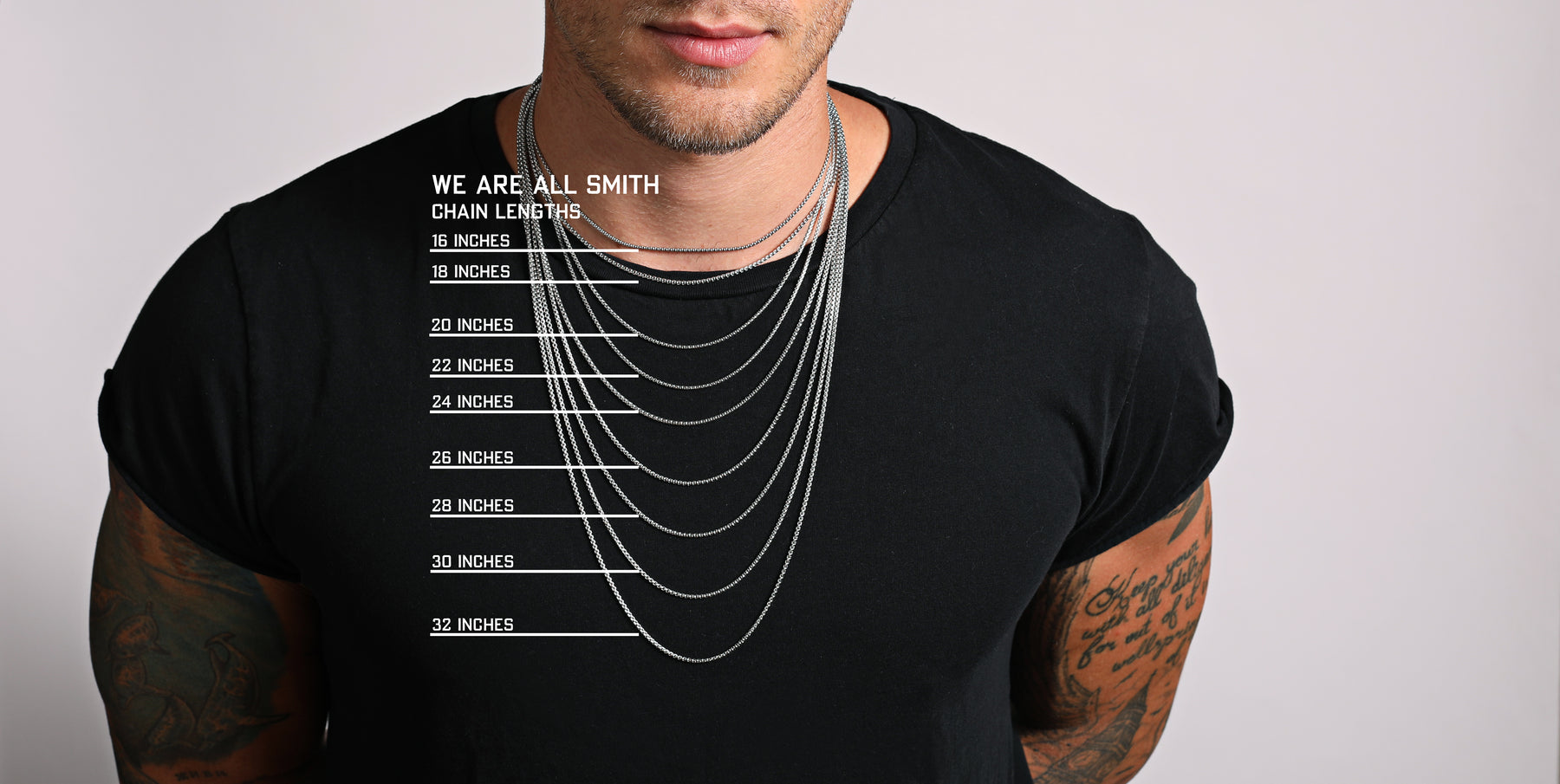 Necklace Lengths
Fellas, fellas fellas. If I'm being honest this is the post that made me think that reviving the blog would be a good idea.
True Story. The #1 most exchanged item here at WAAS is the 16 inch cross for the 24 inch cross. I've done HUNDREDS of those. Listen, I'm a dude I get it, the world of men's jewelry is new for us. Actually the world of men's jewelry that has so many options is what is new for us. A long long time ago, all men wore was gold. Usually a solid gold cross that you wear all the time and never take off. Usually a 18-20 inch from all the vintage men's chains I've come across. But now us fellas have discovered that jewelry is a great way to show your faith, your style, your beliefs, your memories, etc. And with brands and designers trying to make jewelry more affordable than solid gold styles, came brass, gold plated, silver plated, gold filled, stainless steel, etc… And then options come, chain lengths, pendant sizes, different types of clasps, extenders, adjustable bracelets. And then it became too much. 
So back when we introduced stainless styles we used to sell everything on 24 inches and folks started asking us once they got their chain if we could shorten it because they want it it to be visible depending the type of shirt they were wearing. So we added other lengths that you could select on a drop down menu. The first option being 16 inch, then 18 and so on… Dudes being (and pardon the honestly) clueless as to what this options were and probably thinking 16 inches sounds like a super long thing ;-) all chose 16 inches. As if on cue, a couple days later I would get emails from pissed dudes saying "you sent me a fuckin' chocker". And I'm like dude, you bought a 16 inch chain. So I realized fellas were choosing the 1st option of the dropdown menu not really knowing what it meant.
If you see our listings now with different lengths you will notice that the longest chain is listed first. And guess which one we sell the most now? And how dramatically reduced our exchanges are?! 
I know there are a bunch of illustration showing chain lengths but how a chain fits you will vary significantly depending on how thick your neck is, how big your traps are, your torso length and above all your height.
So once a month we will have a different model here on the blog show you how the different chains lengths look on them depending on their height and their built.
You will also see these images pop on our listings so you guys have a better point of reference.
 Vadi is wearing lengths 16-32 inches in 2 inch increments. Vadi is 6 feet tall and has slender model built.
To perfectly find the length for you make sure to check out tomorrows blog with a video we filmed with our favorite trick.